A Dollar a Day Gives a New Life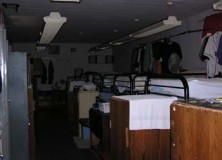 CLEVELAND, November 25 — More than 90% of the men and women we help arrive at our doors destitute. Most have tried to find help at other facilities, without success. They have no money and no insurance. They only have determination! What could be more discouraging than determining to build a new life, but find no help?
We see this determination everyday. We see the pain and suffering alcohol and drug addiction causes, not only for the men and women, but also for those who love them.
We see miracles, too. We see husbands and wives returning to their spouses. We see fathers and mothers reunited with their children, and being responsible, loving parents. We see men and women who just a few months earlier had only determination and a hope that we could help them build new lives.
A $365 donation will support one person at the Ed Keating Center for a full month.
You can be part of our "miracles' by supporting The New Life Foundation benefiting the Ed Keating Center. A $365 donation, which is equal to a dollar a day over a one year period, will support one man or woman at the Ed Keating Center for a full month.
Here are two ways you can help now:
Mail your check for $365.00 to:
The Ed Keating Center (NLF)
P.O. Box 770108
Lakewood, OH 44107
Please make your check payable to:
The Ed Keating Center (NLF)